Andre Onana's huge error allowed Leroy Sane's shot to wriggle under his body for Bayern's opener; He admitted that his start at Man Utd has not been good and says he let the team down in the 4-3 Champions League defeat; Harry Kane also reflected after his first Bayern goal in Europe
The Cameroon international – signed on a £47.2m deal from Inter Milan this summer as a replacement for David De Gea – made a calamitous error after Leroy Sane's shot somehow wriggled under his body for Bayern's opener.
The Germans went on to win the Group A opener 4-3, although there was a late fightback from the visitors. However, the damage had largely already been done, and Onana admitted that his start to life at Man Utd has not gone to plan.
While speaking earlier he said ""It's difficult to lose this way as we started very good but after my mistake we lost control of the game.
"It's a difficult situation for us, and me, as I let the team down. The team was really good but it was because of me we didn't win this game". "I'm happy for the work of the team but we have to move on – that is the life of a goalkeeper. We didn't win today because of me.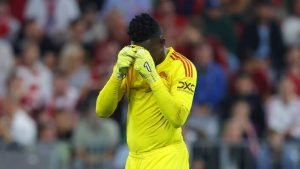 "Their first shot on target, I made a mistake, so the team went down because of that mistake. I have to learn, be strong and move on although it's not an easy situation. I'm happy with the comeback of the team, we were fighting until the end.
"I have a lot to prove. My start in Manchester has not been good or how I want. The way I played today was one of my worst games.
"It's difficult as we are a big club who wants to win everything. It was a good opportunity to bounce back after the situation we are facing – it's a tough time, we have to be together and continue to work hard."