The Ohanaeze Ndigbo Group has condemned the Chairman of DAAR Communications Plc, Chief Raymond Dokpesi, a politician from the South-south for agitating for northern presidency in the forthcoming 2023 elections.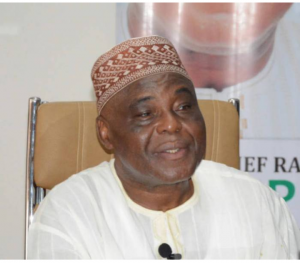 The socio-cultural group, in a statement, stated that Dokpesi is supporting northern person to succeed President Muhammadu Buhari because Northerners sponsored his education.
"I sympathise with our southern son, Chief Dokpesi because he started as the personal assistant to Alhaji Bamaga Tukur at the Nigerian Ports Authority. Dokpesi also served under Alhaji Umaru Dikko and General Garba Wushishi. Records reveal that Alh. Bamanga Tukur paid his fees from secondary school to postgraduate level. To that extent, he owes allegiance to his benefactors and feels no compunction to profile the entire south as an electoral liability", Ohaneze stated.
Dokpesi, who is a member of the Board of Trustees of the Peoples Democratic Party, (PDP), said that his support for the northern presidency was subject to the PDP' agreement during the party's 2016 convention.
"The South-East cannot win the election for the PDP. That is just the truth of the matter. I don't beat around the bush; I treat issues as they are and as I understand them. There is no candidate from the South-East, even I dare say there is no candidate from the South that you put in the North today that will be able to win. It is going to be a humongous challenge," he said this in Abuja during his 70th birthday ceremony.
The 2023 general elections is around the corner. Ohanaeze is agitating for an Igbo President, because according to the group, Nigeria has not had a President from the South-east since the return to democracy in 1999. Ohanaeze Group in response to Dokpesi' statement described his act as duplicity.
In a statement by the PDP National Publicity Secretary, Chief Alex Ogbonnia, Ohanaeze condemned the "duplicity" of Dokpesi. According to the statement Dokpesi supports northern yet canvass for Tinubu as President because they are childhood friends.
According to Ohaneze: "Dokpesi's assumptions are unreflective, weird and unworthy. Any person who loves Nigeria should be an advocate of power rotation especially between the north and the south; and those our sons and daughters who lay claim to leadership should not, under any guise, give the impression that the south is a lame-duck, an electoral liability; and therefore must depend on the north to define the political trajectory of Nigeria".
Ohanaeze thereby advised Dokpesi to allow justice and fairness to guide his choices.