The Organising Committee for the Betsy Obaseki Women Football Tournament (BOWFT) has said all is set for the hosting of the FIFA-accredited pre-season women's tournament which is to be held in Benin City, the Edo State capital.
The tournament is scheduled to commence on October 23, 2023, with 13 teams in participation.
The Head of Facility Sub-Committee for the tournament, Victor Edokpaiyi, said the 2023 edition of the tournament would surpass the previous editions.
He listed the centres to host the games for the female competition to include Samuel Ogbemudia Stadium, the University of Benin Sports Complex, Western Boys Mini Stadium, while the University of Benin Teaching Hospital (UBTH) and Edo State School of Health Technology Mini Stadium will be used as training centres.
He said, "We are set for the pre-season competition as we just finished inspecting the centres for the competition and all the facilities have been put in place.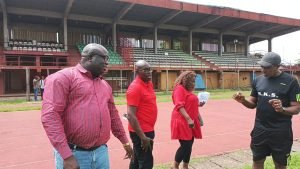 According to him, "The Samuel Ogbemudia Stadium will host the opening and the closing ceremony of the competition, while group matches up to the semi-finals would be played at UNIBEN sports complex and Western Boys Mini Stadium.
"The School of Health Mini Stadium and University of Benin Teaching Hospital would serve as training centres for participating teams."
This third edition of the BOWFT will focus on the Edo State Government's campaign in order to end gender-based violence.