Edo State Governor Godwin Obaseki has assured the people of Edo that his administration will fulfil all of its campaign pledges before he leaves office on November 12, 2024.
At a recent trip to Niger College in the Ikpoba-Okha Local Government Area of Edo State, the governor gave this pledge in the presence of the state's Commissioner of Education, Dr Joan Osa-Oviawe also known as (Woman wey pass man) as people call her and other high-ranking officials.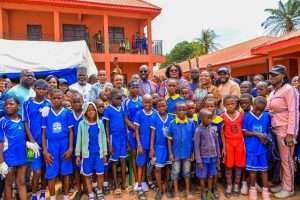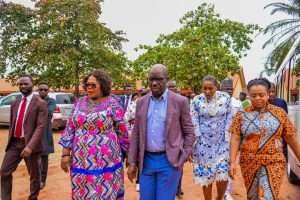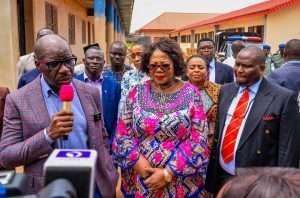 As the elections are over, Obaseki said he plans to personally check on the progress of all government projects to ensure they are on schedule and will be finished by 2024.
He wished for a legacy of having "re-enacted" education in Edo State. We have reorganized the first three years of schooling, from primary one through Junior Secondary School Level 3. Unfortunately, the federal government's policy on secondary schools is quite weak and ambiguous, and we've already begun the process of reorganizing our senior schools.
In contrast to senior schools, which lack a dedicated financial source for infrastructural development, primary schools benefit from the Universal Basic Education Act and Fund. We, as a state, have decided to seek funding to begin the process of reconstructing our secondary schools, beginning with a few that have a particularly high student population.
Without federal funding, the state government will be responsible for rebuilding the infrastructure, hiring enough teachers, and introducing technology.
Obaseki continued, "We will step back using our SEEFOR model and funding, moving forward to build secondary schools rather than create more SEEFOR roads. We want to get going as soon as possible to see how many we can finish before the end of this administration, and we also want to provide a roadmap for future administrations so that they can follow it to ensure that our secondary and technical schools are completed. To begin, we will examine Niger College.
Dr. Osa-Oviawe weighed in by saying, "We want to come in, infrastructure-wise, with what we term the smart design. The governor has mandated that we properly plan the school to include a playground and play area to engage kids in athletics and other athletic activities.
"Disarticulation is being done in phases, and starting in September, we will begin to see schools physically disarticulated, but schools like Niger College, where there are no existing elementary schools or unoccupied land since the school is properly built up, we would think of other ways. So that the public is fully aware, the Ministry of Education plans to release a list of our secondary schools and their proposed disarticulation in a few months.
She went on to say, "Under the smart design programme, we will reorganize the space and structures to provide functionality for the student. We're starting with a few schools first. We shall begin the process of renovating this school by first designing it and then determining its exact survey coordinates.