A laborer by his first name, Dogo, fell into a church septic tank in Badore, Ajah, Lagos State, and died there.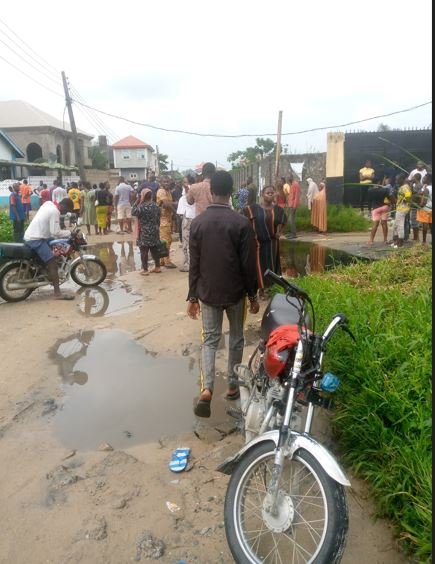 It was learned that the incident took place on Friday while the deceased victim was hired by the church's leadership to perform work on the premises.
According to a local source who spoke with reporters, a resident of the church was unable to see the middle-aged worker on the spot when he began working.
He stated, "They started to look for him when the people around him noticed his absence where he was working." His body was discovered in the soakaway while the search was on for his whereabouts.
Read:Gunmen kill 70-year-old Ondo lady, take adornments
Residents claimed that the deceased victim was used for ritual purposes, while others claimed that his body was mutilated, causing panic in the area, according to reports.
As a result, a horde of irate individuals stormed the church grounds, damaged a few assets, and set the building on fire.
The mob took a cow that was tied close to the church. The cow was later killed, and the community ate the meat. the source additionally unveiled.
Benjamin Hundeyin, the state Police Public Relations Officer, confirmed the incident when contacted.
He stated, "Someone was hired to evacuate the church's septic tank." He fell into the septic tank while doing the work. He was rushed to the hospital, where it was determined that he had died. The church was also destroyed by some enraged youth. The body was not slashed in any way. While the police were present, they did not remove any of his body parts to take pictures. No capture has been made at this point."