The Edo State Governor, Mr. Godwin Obaseki has hailed the outgoing Edo State Chief Judge, Hon. Justice Esther Edigin for her contribution to the peace and development of the state, pledging that his government will sustain ongoing reforms in the judiciary.
Obaseki made the pledge when he received Justice Edigin who was on a valedictory visit to the governor at the Government House, Benin City.
Edigin, who will be retiring on Monday, May 17, 2021, was sworn in as the seventh substantive Chief Judge of Edo State on Friday, November 22, 2019, following the retirement of Hon. Justice Esohe Ikponmwen from the state's public service.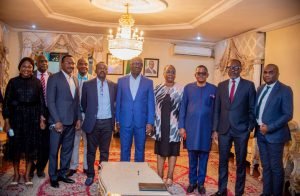 Obaseki said: "We have been very consistent, as a government, about the judiciary. The Judiciary is the anchor on which our democracy rests and as such must be treated and given its due place in our democracy.
"Due to the COVID-19 pandemic, we are not able to cover more grounds as desired in terms of judiciary transformation in Edo State. The Executive is currently going through that process as we have reforms to show; the legislature is also pushing for a very hard transformation and it will be our joy carrying the judiciary joins in this trend to ensure the transformation and modernization of the judiciary system."
Governor Obaseki said his administration will continue to cooperate and work with the judiciary to make it more effective and efficient in discharging its responsibilities.
He noted: "We are dealing with a new world and nobody expected it as we were caught napping. Various institutions and states rely solely on one major source of resources. This is not good for us; it should be about our collective survival and not individual survival; we either sail or sink together."
"Our goal is to make Edo State the judiciary hub of this zone. As a government, we want to thank you for your services to Edo State. We will continue to reform the Judiciary system," he reassured.
Earlier, the Chief Judge commended Governor Obaseki for the cordial relationship and cooperation with the Judiciary.
She said: "l am here today to pay you a valedictory visit as part of events marking my disengagement from the Judiciary and Government of Edo State.
"I will be retiring next week, Monday, May 17, 2021. I want to thank the Edo State Government for the cooperation with the Judiciary. The government facilitated the construction and handover of 12 modern Courts to the Judiciary. You have also awarded contracts for the building of three Magistrate Courts in Ikpoba-Okha, Oredo, and Egor Local Government Areas."