Nigerian born Italian  reggae star, honored by Africans as the  Nigerian  King of Reggae popularly known as Winning Jah is yet taking  his reggae missionary  journey global. Let's quickly look at his recent  global reggae music album charts and song charts below.
Album digital chart original source : Soundchart.com
| | R-1 | PEAK | TITLE | PLATFORM | CHART | COUNTRY | PEAK DATE | TOC |
| --- | --- | --- | --- | --- | --- | --- | --- | --- |
| | — | 31 | Africa Inside Me | Apple Music | Reggae | | Dec 18, 2019 | |
Top 100 Reggae album chart – Apple music  Egypt:  source: Top-charts.com
Africa Inside Me album by Winning Jah  released around 2017 ,  took on 14th position at Top 100 Reggae album at "Itunes  Egypt" His anthem song  and most played reggae song  on  Speed fm, splash fm  entitled Trust was part of the album's  success. Effect from the released date. Nigerian entertainment blogs had  strictly focused to critically review Africa Inside Me abum, from various music professionals in the music industry, luckily for the dreadlock  musician,  Winning's  Africa Inside Me album garnered 90% positive review from Obaland Magazine music critic Mr Enobore , the president of Edo state  Artist Music review commission  board. Outside the  income generated from his music sales from Physical CD's and company endorsements, personal investment. Winning Jah  had been presented as the most influencial reggae musician in Nigeria by Vanguard Newspaper and Obaland Newspaper.
1
Legend: The Best of Bob Marley and the Wailers (Remastered)
All platforms › Song ›  All Countries
Original chart data source: https://app.soundcharts.com/app/artist/winning-jah/charts
RANK
R-1
PEAK
SONG
PLATFORM
CHART
COUNTRY
PEAK DATE
TOC
178
1
Happy Birthday (Remix) [feat. Winning Jah]

iTunes

Reggae

Feb 16, 2021

33 (doc)

—
1
Now I Know (Made In Africa)

Deezer

Reggae

Dec 05, 2019

1 (doc)

—
7
Happy Birthday (Remix) [feat. Winning Jah]

iTunes

All Genres

Feb 16, 2021

2 (doc)

—
7
Happy Birthday (Remix) [feat. Winning Jah]

Apple Music

Reggae

Dec 17, 2020

1 (doc)

—
27
Happy Birthday (Remix) [feat. Winning Jah]

iTunes

Reggae

Sep 21, 2020

13 (doc)

—
51
Now I Know (Made in Africa Version)

Deezer

Reggae

Oct 29, 2019

2 (doc)

—
60
Don't Cry (Intro)

Apple Music

Reggae

Jun 21, 2020

1 (doc)

—
63
Coat of Many Colours (Acoustic)

Apple Music

Reggae

Feb 19, 2021

1 (doc)

—
64
Now I Know (Made In Africa)

Deezer

Reggae

Dec 06, 2019

1 (doc)

—
73
Now I Know (Made In Africa)

Apple Music

Reggae

Jun 10, 2019

1 (doc)

—
85
Now I Know (Made in Africa Version)

Deezer

Reggae

Mar 18, 2020

1 (doc)

—
88
Now I Know (Made in Africa Version)

Deezer

Reggae

Mar 26, 2020

1 (doc)

—
183
To Whom It May Concern (Remix)

Shazam

Top 200

May 11, 2020

4 (doc)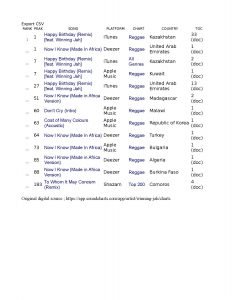 (Visited 70 times, 1 visits today)