O
baland Magazine  Reporter
Esther.P. Egbe
had an exclusive interview recently with  The Ghanaian-born Nigerian Singer/Songwriter,
Daniel Odum
creates magic after his successful release for MONEY SPEAKING, he took a decidedly different direction, choosing to lean into a wider array of sounds and styles, in order to convey a wider array of emotions and culture, most notably his paternal ancestry. BUSINESS WITH GOD is an Urban West African body of work that Dan Drizzy put together along with some top recording artists in Ghana and also in other parts of west Africa. The Extended playlist consists of A-list rappers, singers, disc jockeys, and songwriters like MEDIKAL, YAA PONO, RHATTI, $PACELY, KEVIN BLACK, DANI DRACO, NOYC, SPL, AJAY ODDLAD, DJ OZONE, DJ CLEMS, DJ HIGHLY. Since this is Dan Drizzy's debut extended playlist he went all in as much as using over 10 African languages and also 70% of English and broken English. The BUSINESS WITH GOD EP consists of 7 tracks alongside his recently released single "MONEY SPEAKING" making a total of 8. Every track has a different vibe to it as Dan Drizzy tends to connect the world to his newly found sound of Western Africa. Dan Drizzy would like to work with Burna Boy, Stonebwoy, Wizkid, Daddy Lumba, Worlasi, and a whole of creative musicians.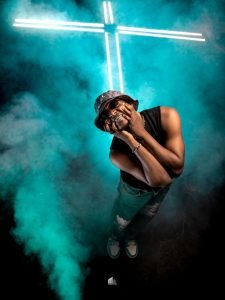 Daniel Odum who grew up between two worlds: his family's deep ties to South Nigerian highlife music and the years he spent in South Africa and Nigeria influenced his sounds and rhythm, he told Obaland Magazine.
His outstanding melodies creating skills, sound arrangements, and songwriting abilities have landed him in the spotlight in Ghana and across Western Africa. Dan Drizzy ending 2020 in grand style, crafted his first EP with a variety of African melodies. The artist who released his debut EP in January is slowly growing into his stride as one to watch out for.
Dan Drizzy started having the urge to do music when he lived with his father in Nigeria, who always listened to indigenous percussion-influenced music.
Dan Drizzy joined a music group HOV GANG with some friends he met in his university days in koforidua. Unfortunately, they never produced a song and ended up disbanding.  Later on, he moved to South Africa where he worked at a studio that produced Kwesta and he had the privilege to watch Kwesta record his album. This increased his interest in pursuing a career in music. He had to move back to Ghana to pursue his dream, Leading him to YAA PONO who immediately got Dan Drizzy involved with UPTOWN ENERGY.
Dan Drizzy has a lot of unique sounds and his style of music can be described as west African contemporary pop music. He emphasizes fictional and non-fictional events which have an impact on his life through his music. His music is real, urban, and catchy mixed with an amazing African touch.
"Inspiration is everywhere" as Dan Drizzy said in an interview with Obaland Magazine  Dan Drizzy's Music is influenced by the words of his father, the voice of the streets, and the sound of a beat.
Dan Drizzy is always creating music because he has something to give always. His music and style are influenced by his imagination. He always has a visual cue on how he wants to sound and how his much video would look like.
Dan Drizzy has worked with a lot of big industry names since he released his hit single "Money speaking" Featuring the award-winning rapper and lyrical genius Yaa Pono[His first song as a member of Uptown Energy] He later released his debut extended playlist "BUSINESS WITH GOD"
Dan Drizzy has over half a million streams for his debut extended playlist "Business With God" which he released on 01/01/21.
* Dan Drizzy's debut extended playlist "Business With God" was featured on GrungeCake.com and was recommended by Richardine Bartee who has worked with the Grammy, MTV, and HOT97 Fm.  Songs from Dan Drizzy's debut extended playlist "Business With God" have been featured multiple times as the 10 best Ghanaian songs of the month by OkayAfrica.